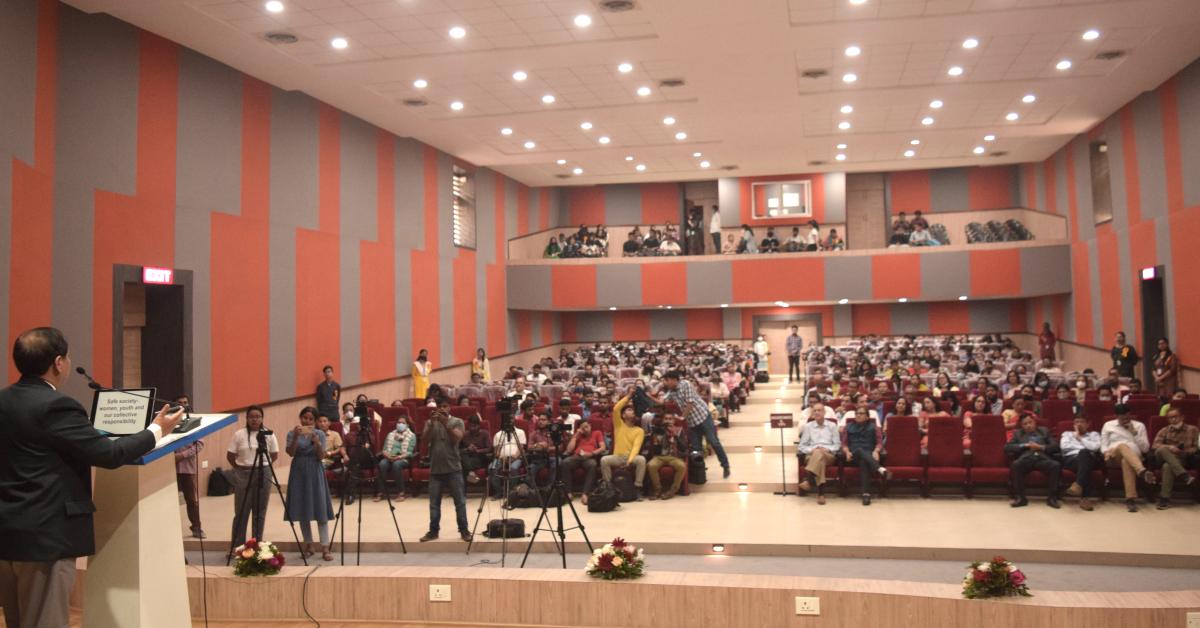 In a widely attended Women's Day event at Cotton University ,Shri Bhaskar Jyoti Mahanta, DGP Assam delivered a special public lecture on "Towards a Safe Society: Women, Youth and Our Collective Social Responsibility".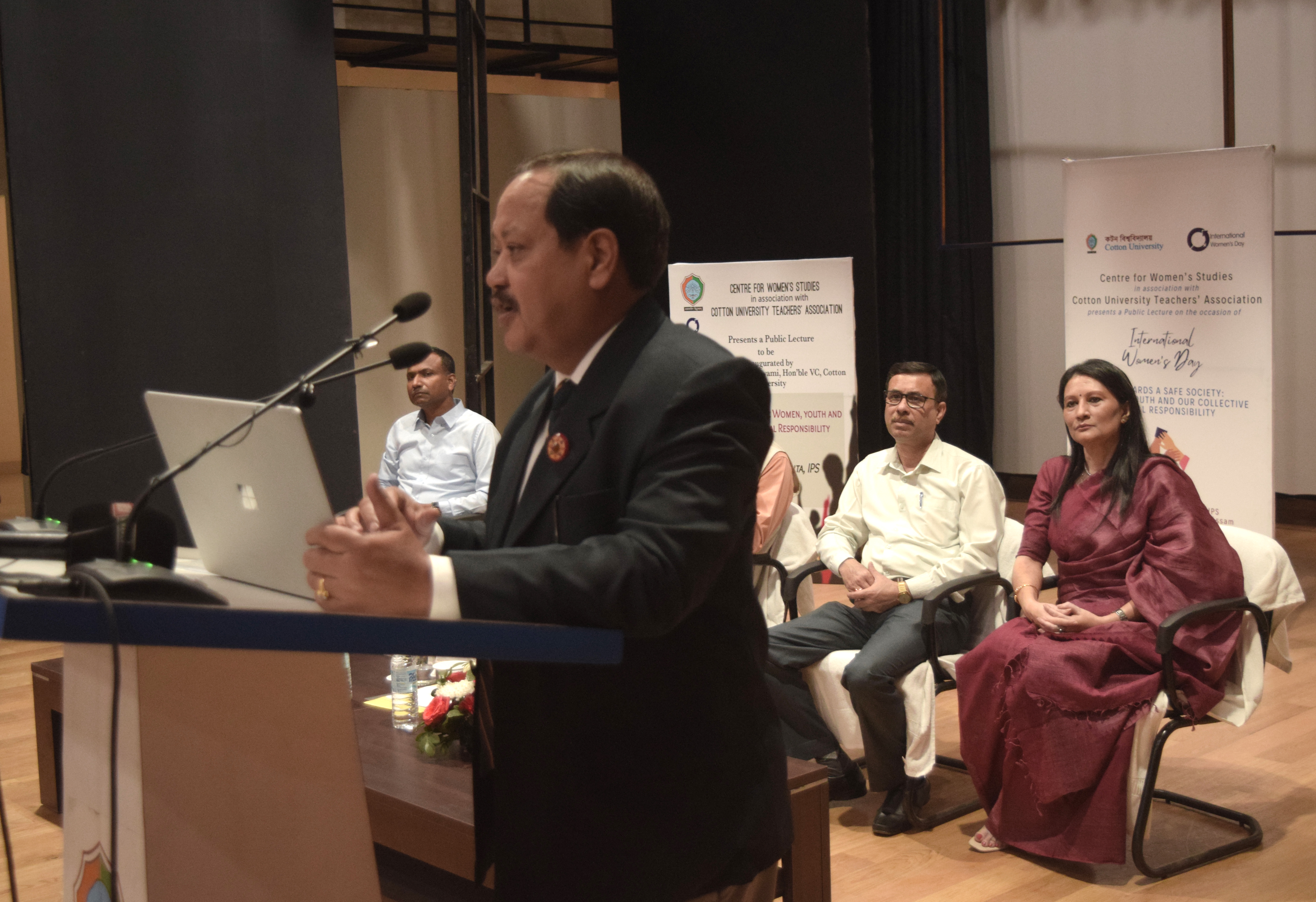 The program hosted by the Centre for Women's Studies in association with Cotton University Teachers' Association at the KalaguruBishnu Rabha Auditorium this morning was inaugurated by Vice Chancellor, Prof Bhabesh Chandra Goswami who extolled women's relentless presence at work from the breakfast table to the office desk. He observed that women as the nurturers and creators of mankind should be lookedupto and respected to create a gender-sensitive society, while also commenting on the strides of progress that women have marched into in the contemporary times. In the northeast, more particularly, matrilineal societies have displayed greater freedoms and empowerment he remarked even as a culture of discrimination is presents everywhere. Dr Rakhee Kalita Moral, Head Centre for Women's Studiesat Cotton University, earlier welcomed the audience and offered an analysis of emergence of women's studies in the academy tracing its historical roots back to western society and the suffrage movement. Referring to a rich civilisational heritage of India she however mentioned that ancient Indian women have occupied positions of honour and respect and been held in esteem as icons of wisdom and feminine strength. The Towards Equality Report of 1974, she pointed was the turning point in fuelling a strong women's movement in the country which trickled into higher education institutes to introduce the curricular aspect of gender as an interdisciplinary field of study which marks a connect with civil society and realities on the ground. The CWS at Cotton University she also mentioned practices an experiential method of learning which brings to the student gender education from the community beyond the classroom. 
DGP Bhaskar Jyoti Mahanta, the chief guest gave an illuminating talk on safe societies and what entities constitute a free and "good ecosystem" with the right attitude towards women: Are we sure of the unified system of women in the society? Are the women really safe and is it all very fine like it seems in the matriarchal/ matrilineal society in our states at large? According to him status of women in Assam is by and large egalitarian. Going back to trace the history of Satras, the Bhabanipur Satra of the 1550s had created a disciple training centre to teach people of the new developments in the society by Gopal Aata. Women were exemplary he observed in those times writing poetry and excavating the abandoned place created by Sankardevin Borduwa. Ironically those were times when women weren't allowed inside the Satras and women have been persecuted when they protested. A totally safe society is an illusive idea as levels of victimization vary from society to society. Mahanta referred to procedures like quick reporting of crime against women, stringent punishment for perpetrators, women friendly courts, system of women protection etc to ameliorate the existing injustices and inequalities. He also remarked that women in the region are bold enough to report oppression and violence unlike other states of India perhaps highlighting crimes against women disproportionately than elsewhere. Social Virtual crime reporting has been made easy by PDA (Personal Digital Assessment). He urged zero tolerance in the matter of crimes against womenand appealed to the student community to raise their voice for the victims. He emphasized on a women safety setup for the victims and collective social responsibility to ensure dignity in which the role of youth and youth leaders is important to be looked upon. Women should not be reduced to mere objects or as an agency of violence where constructive partnership is a must. 
The DGP made mention of Women help desks, Sishu Mitra Project (SMRC), Sishu Mahila Resource Centre and anti-human trafficking centres in Assam , advanced mobile forensics, 112 Emergency Response Support Systems (ERSS) and the availability of all women PS in 11 districts and  special cell for women with social workers for counselling,. The DGP said that 30% seats were reserved for women in unarmed branch and 10% for armed branch of police, highlighting the Biranganas who have been covered by BBC as rare and the only female commando units in the country.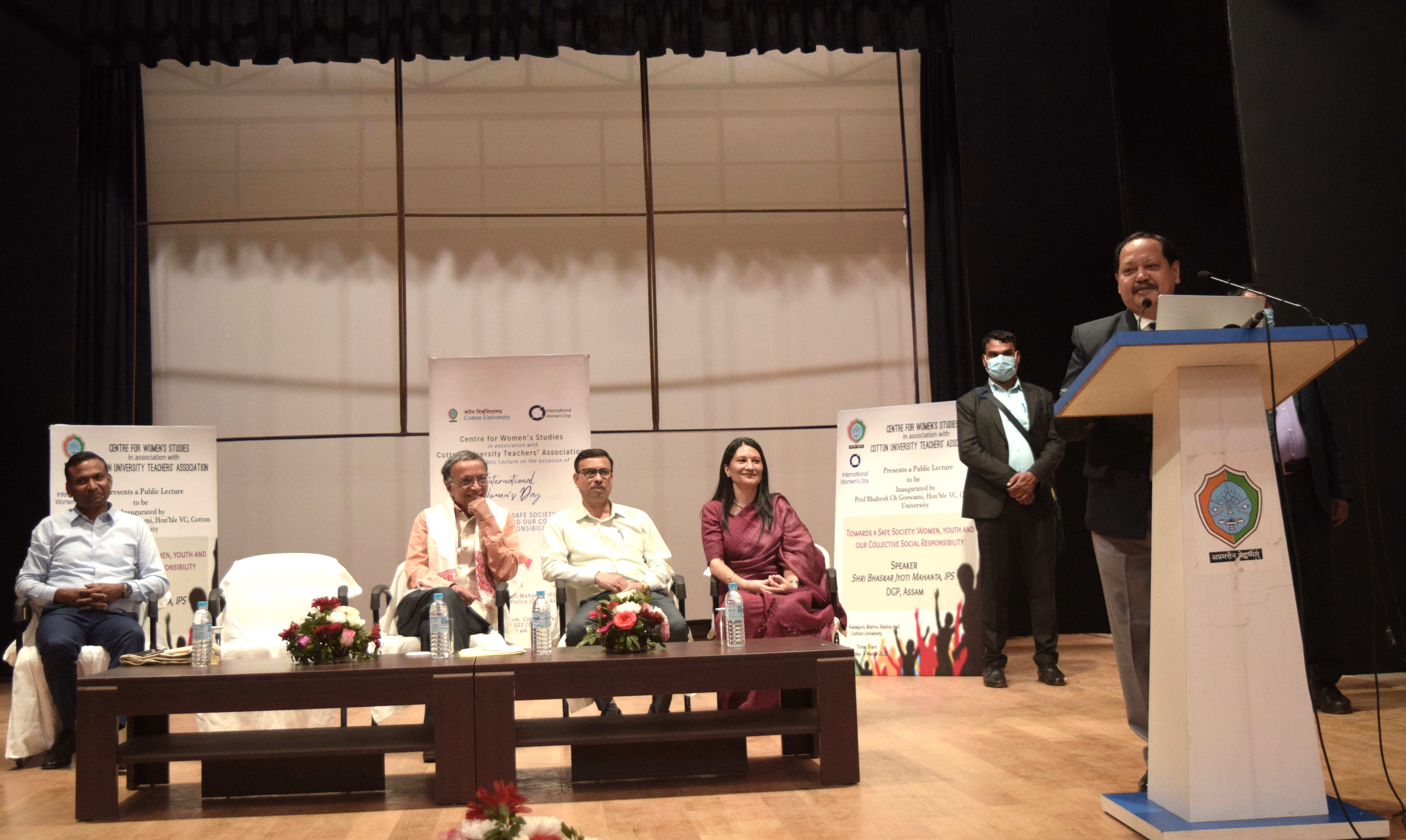 Accountability should be reston the Assam media and education of media persons is important to get rid of the opinionated leaders of the society, he felt..Intersection of government and the academia is necessary in crime sensitive areas so as to build collective social responsibility for the harmony of all and classes of people, especially children and women he said, while observing the POCSO is a complex area where witness, testimony and reporting are all caught up in traditional attitudes of patriarchy. Shri Surinder Kumar IGP, Crime against Women and Anti Trafficking, Vigilance and Anti Corruption responded animatedly to queries from students after the DGP's lecture which was followed by awarding of certificates to two students for best entries in Assamese and English, in an e-contest held for the IWD. 
The program which got to a solemn start with the playing of O Mor Apunar Dex was anchored by Dr Merry Bora Baruah, faculty of English who invoked the Devi Sukta setting the perfect tone for the occasion. Dr Pooja Chetry, faculty of Centre for Women Studies offered the vote of thanks.